Heat Recovery Collectors
Heat Recovery Collector Fresco HX
The Fresco HX heat recovery collector produces heat up to 24 hours a day since it includes Trigo's Extrudair technology:
Robust absorber made of extruded aluminium, painted black or covered with selective surface
No air cross-contamination between intake and exhaust air streams
Highly solar light transmissive tempered glass cover
Galvanized steel edges, any colour, insulated
Overall System
The bank of collectors is ideally located on the roof between exhaust air fans and a gas-fired make-up air unit. Of course, many system layouts are possible depending on site conditions.
A first set of ducts are linked to the back of the collector for exhaust. A second set of ducts are connected upstream of the make-up air unit for fresh air preheating. Heat recovery happens between both opposite air streams running within the collectors. When solar radiation is available, the incoming fresh air also picks up extra free heat from the sun.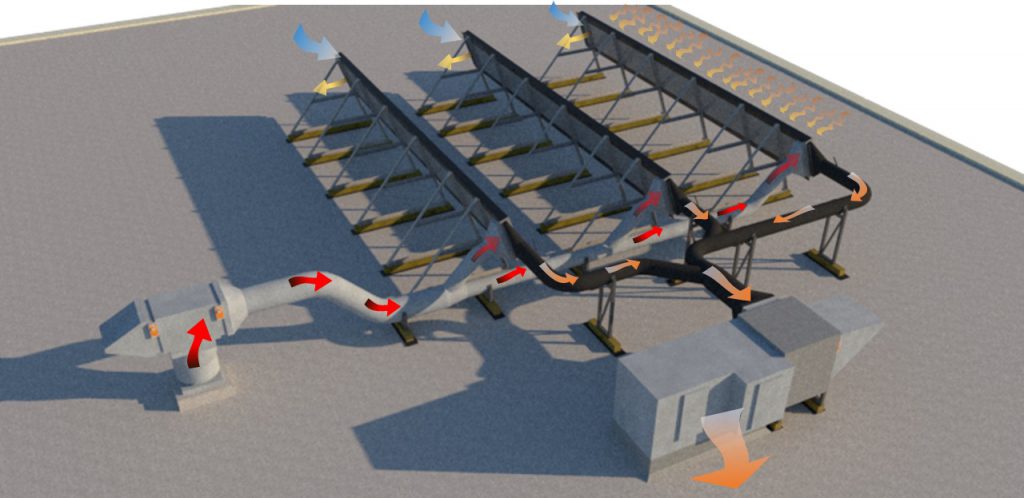 The Fresco LT solar air collector
Trigo's Fresco solar air collector is made exclusively from extruded components, which makes it possible to manufacture into one long single part, delivered on site at any desired length. Because of this, installation times are reduced to a bare minimum. Moreover, the Fresco collector boast additional features:
Selective absorber surface (less than 5% emissivity) to cater for very cold climate conditions – black paint is optional.
Resistant cover made of tempered glass for maximum light tranmissivity (polycarbonate is optional)
Painted steel folded edges, any colour, insulated
Made for both fresh air preheating (open-loop) and/or space heating (closed-loop) operation
Pre-mounted A-frame aluminium support legs, 1-meter clearance above roofline.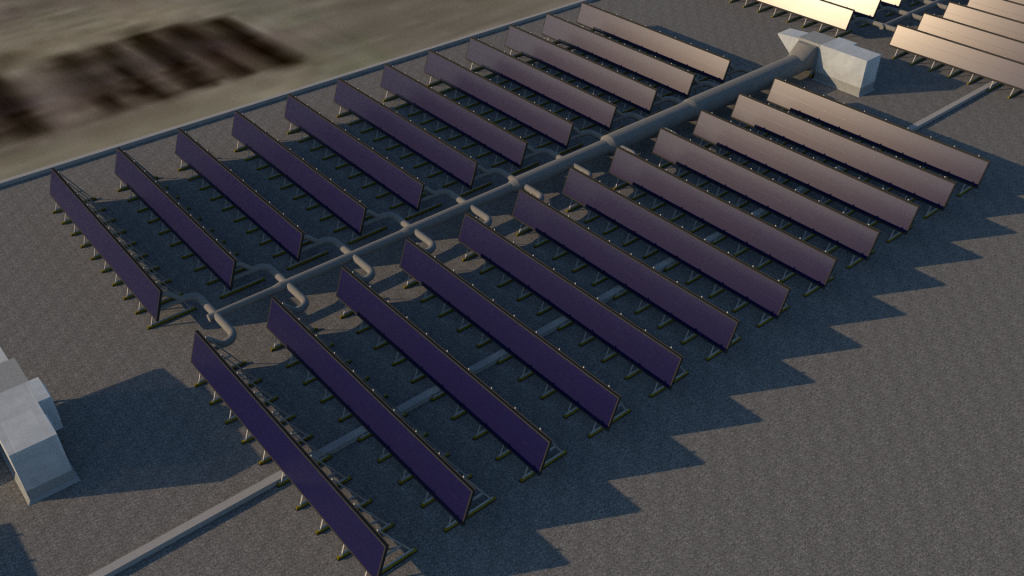 Documentation
The standard Fresco HX collector comes with a highly resistant tempered glass cover as standard for its optimal light transmission properties. This increases the collector's solar yield.
 Alternatively, the Fresco HX collector can be delivered with a 20 mm multi-wall polycarbonate cover to attain a higher overall U-Value. This increases heat echange overall effectiveness.
The standard Fresco collector can attain air temperature increases of up 60°C above ambient, thanks to is high transmission glazing, selective absorber and favourable heat exchange geometry. It is therefore perfectly suited for applications with high air temperatures or closed-loop applications.
Top glazing- standard glass
Thickness: 4 mm (std);  Material:  tempered glass (std); Glass width: 600 mm; Glass length:  2000 mm; Solar transmissivity: 89%
Top glazing- option polycarbonate
Thickness:  20 mm (std);  Structure: 6 walls, 5 cavities (std); Panel width: 600 mm; Panel length: no technical limit: Solar transmissivity: 69%; Thermal U-Factor: 1,7 W/m2.K; Temperature range: from -40°C to 120°C; Thermal expansion ration: 0.065 mm/m.K; Acoustic insulation: 20 dB; UV protection: on both sides, by coextrusion
Internal air plenum
Plenum:  from 25 to 300 mm (60 mm typ.); Surface air flow: from 50 to 500 m3/h/m2 (Re>3000); Pressure drop: 175 Pa (typ.); stainless steel supports: anchors @ 60 cm c/c;  Omega bars: 18 ga. Steel, 3.3 m long each.; Spacers and baffles: hole-punched or micro-perforated bars, tailormade.
Solar absorber (selective surface)                 
Material: Aluminium substrate; Thickness: 0.4 mm; Absorber width:  standard 625 mm, max. 1250 mm; Surface compound; quartz silicium, titanium, titanium carbide; Solar absorptivity: 95%;  Emissivity over solar spectrum: 5%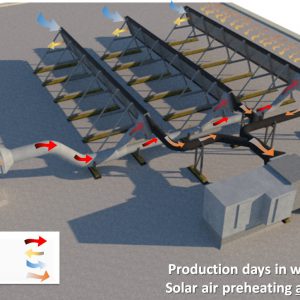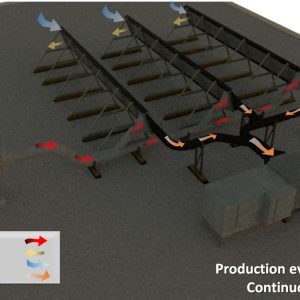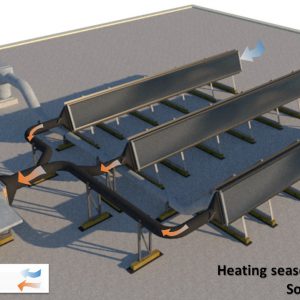 During weekdays of production in the cold season, the Fresco HX system recovers waste heat and provides solar air heating.
During evenings of production in the cold season, the Fresco HX system recovers waste heat even when the sun is gone.
If the sun shines during week-ends, the Fresco system can be put to advantage for sheer space heating.